As a mom on the go, I am always looking for inexpensive beauty products. High-end beauty products are great, but it is amazing to have great options at the drugstore. Whether you are looking for a nice everyday face wash or a great moisturizer, there are amazing options at the drugstore. Below are some of my favorite beauty products that I use almost every day! I hope you enjoy the items below as much as I do.
1. eos Shea Better Moisture Body Lotion- Vanilla Cahmere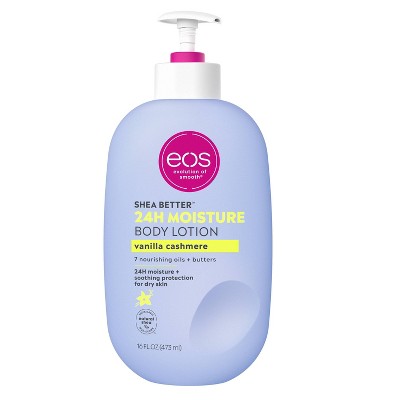 I owe this find to my sister who suggested this lotion to me, and I am so happy she did! This lotion is by far the best drugstore lotion that I have tried in a long time. I also noted that you should specifically get the Vanilla Cashmere scent, especially if you love all things cookies, cakes, and vanilla! If you don't like the scent of vanilla, no worries this lotion has several other scents to choose from. Other than the smell, this lotion leaves my body moisturized for hours. e.o.s specifically notes that the moisture lasts 24 hours, and I have to agree. This lotion also contains 7 nourishing oils plus different kinds of butter, including natural Shea Butter and Shea Oil.
2. eos Shea BETTER SHAVE CREAM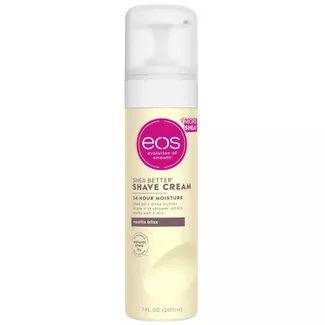 I know, another e.o.s product, but I have been enjoying this shaving cream for a long time now. Instead of the regular shaving cream consistency, the consistency of this shaving cream is like lotion. Once I'm done shaving my legs they feel so soft and moisturized. This shaving cream also contains shea butter and nourishing oils as well. This product also contains aloe and oat to prevent razor bumps. Also, the e.o.s shaving cream pairs really well with the e.o.s Shea Moisture Body Lotion.
3. Method Body Wash Pure Peace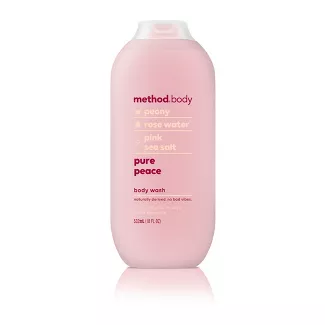 I really love the Method Body Wash. There is something about this body wash that really does take the stress of the day away. I feel so relaxed when I use this body wash. I really like the rose in this body wash as well; it smells so good. Of course, if you don't like the scent of rose there are several other scents you can choose from. This body wash is cruelty-free and free of phthalate and parabens.
4. Dove Sensitive Skin Body Wash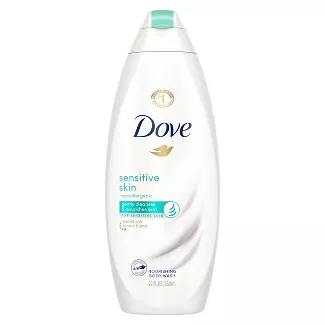 if your looking for something unscented, especially when washing your lady parts this is an amazing body wash. This Dove wash is perfect for sensitive skin. Dove Sensitive Skin Body Wash ranks #1 with Dermatologists, which is awesome! My skin feels so moistured after I use this wash!
5. Tree Hut Tropical Mango Shea Sugar Scrub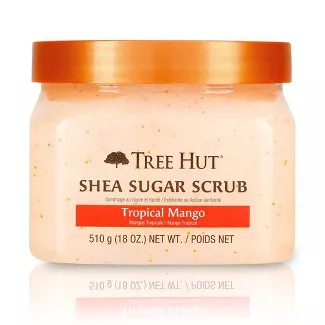 Once a week I enjoy giving my body a nice exfoliant, and the Tree Hut Shea Sugar Scrub is amazing! They all smell great, but I particularly love the Tropical Mango Scent. This sugar scrub is amazing at getting rid of all the dead skin that builds up over time. Also, I don't know if you can tell but I love anything with shea butter. This scrub always leaves my body so moisturized and sugar is a natural exfoliant that is not harsh on your body. This sugar scrub is cruelty-free, paraben-free, and aluminum-free.
6. Native Natural Deodorant-Coconut Vanilla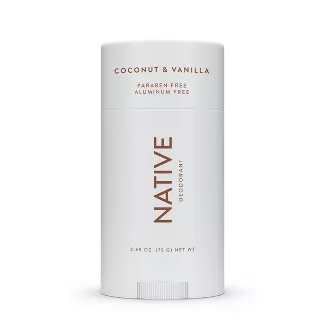 I never thought I would be the natural deodorant only type, but I fell in love with this deodorant!! It smells so good and it leaves me feeling fresh the whole day. I was always scared that natural deodorant wouldn't work on me, but I was so surprised to find that it worked at keeping odor away. This deodorant is clean of all harsh chemicals like aluminum and it is cruelty-free.
7. Cetephil Normal to Oily Skin Daily Face Wash
I have been using the Cetaphil Facial Cleanser for years. I honestly don't know how many bottles that I have gone through. This face wash is amazing! The Cetaphil cleanser is great for sensitive skin and it does an amazing job at getting rid of dirt, makeup, etc… without stripping your skin. A lot of times high-end facial washes can be so expensive especially when the product only lasts for about a month. I really wanted to find a product that I wouldn't mind buying continuously over and over again and not have to worry about the price. This face wash is definitely my go-to.
8. e.l.f. Holy Hydration! Face Cream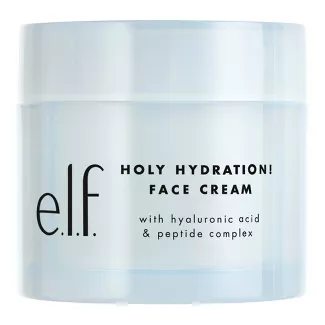 Skincare can be really expensive, especially a good moisturizer. But the e.l.f. Holy Hydration! Face Cream leaves my face feeling so soft and moisturized. My face feels so hydrated every time I use it. This moisturizer is perfect for all skin types and the formula is lightweight. My face never feels greasy after I use it. The facial cream is a clean product that is free of phthalates, parabens, sulfate, and it is also cruelty-free. The e.l.f. Holy Hydration Face Cream is definitely a must-have that won't leave you disappointed.
I hope some of these suggestions help you when it comes to finding the right everyday beauty product for you. I would also love to hear suggestions from you on what some of your favorite drugstore products are so that I can try them as well!
Krystal